There are many paths to follow when one has an interest in the Civil War. Some choose to read battle histories or biographies. Others travel to battlefields to walk in the footsteps of the heroes of 1861-65. Still others choose to become activists in the effort to save and preserve hallowed ground. For some the Civil War is a hobby, others choose to make it their career.
My interest in the Civil War began with a family vacation in 1961 that included a stop at Gettysburg. The park service guide who rode with us made the war come to life for me. But, what really hooked me was the purchase of a hand full of minie balls at a lunch stop. These tid-bits of history were a tangible connection to the past. I have been an avid collector ever since. My collection has grown large over the years, to the point where I had to do something to properly house and display them. My wife, my daughter and I moved to Spotsylvania three years ago for the purpose of establishing a Civil War museum.
Now I would like to talk about one very special artifact in our collection. Every collector dreams of finding a crown jewel for his or her collection. This is usually a once-in-a-life-time opportunity. For me, this came in 1991. A friend of mine, who fancied himself an antique gun dealer, called me at work one morning stating that he had something I would be interested in. This dealer usually only had low-end guns of the World War I and Two era, so I was a little skeptical. He said he had picked up an engraved Civil War Colt Model 1851 Navy revolver the day before at a Chicago gun show. Then he said it had an officers name engraved on the handle strap. I was interested enough to ask him to bring it over to my house that evening so I could take a look at it. Upon examination, I found the firearm to be in excellent condition. The name engraved on the gun was Col. E. E. Cross, 5th. NH. The name was unfamiliar to me so I took a look in the index of the Official Records of the Union and Confederate Armies. This is a128 volume set of books published between 1890 and 1900. I found several references to Col. Cross. Further checking revealed that Col. Cross had been killed at the battle of Gettysburg. Now I was really interested. Offering my friend another beer, and trying not to show my interest too much, we started negotiating a price. It became obvious that he had no idea who Col. Cross was or the historic value of this artifact. Several beers later we concluded negotiations and a check was written.
I was a little nervous about purchasing such an important relic of the Civil War. I knew whom I bought it from, but I didn't know anything about its prior ownership. He could easily have purchased it from someone who had stolen it from a museum or private collection. All I knew was that he had bought it from an unidentified man from Wisconsin who had brought it in to the Chicago show along with a couple other guns that he wanted to cash in. Not wanting to be stuck with a stolen gun, I started making some discreet inquiries. I checked every book I could find about famous Colt firearms to see if it had ever been written about or was referenced to a museum or private collection. Nothing. I wrote to the Colt factory historian to request information regarding a Colt with this serial number. If it had been stolen, they would probably know about it. Again, nothing. I did learn though that it had been produced in 1861, and had been shipped as part of a 200-gun lot to the firm of Schuyler, Hartley & Graham of New York on August 19, 1861. Schuyler's was a military outfitting store in New York that supplied all manner of military equipment to Union officers during the war. This gun was probably engraved by one of the store engravers and offered for sale to officers who were required to purchase their equipment. Options included the type of finish, decorative engraving, choice of stock material (usually walnut or ivory) and having the owners name engraved on the grip strap. Col. Cross being a practical man chose walnut grips rather than ivory. The decorative engraving on this revolver is typical of Schuyler's in-house style.
Well, now I was the caretaker of an important Civil War relic. Next came the task of finding out who Col. Cross was. Researching Civil War information is a like trying to put a jigsaw puzzle together, but not having any of the pieces. First one has to find the pieces, and then one can put them together.
Civil War Colt Model 1851 Navy revolver

Name engraved: Col. E. E. Cross, 5th. NH


My first piece was a photograph of Cross published in Millers Photographic History of the Civil War. I decided to try to locate an original copy of the picture. While attending a Civil War Show I inquired with photography dealers if any of them might have a photo of Col. Cross. One replied "Wheatfield Cross, good luck." A call to a Chicago area ephemera dealer netted a lead and a phone number of a major collector of photographs in Boston. I called the gentleman and asked if he had a photograph of Col. Cross. "Sure" he said, "but its not for sale." I told him why I was seeking the photo to which he responded "That's a different story. I'm sure you won't part with the revolver, so I'll have to let you have the photo." In a few days I had in my hand, an original photograph of Col. Cross. Collectors are like that.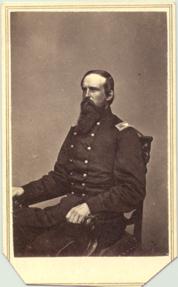 At this point I began to look for more pieces of the puzzle. The Official Records revealed a good deal of history about the 5th. New Hampshire and its ill-fated commander. The 5th. fought in several battles with the Army of the Potomac. The major battles included Yorktown, Fair Oaks (where they were instrumental in building the Grapevine Bridge), Savage Station, Peach Orchard, White Oak Swamp, Charles City, Malvern Hill, Antietam, Fredericksburg, Chancellorsville and Gettysburg. The OR contains several "after action" reports written by Col. Cross.
I next ordered copies of Col. Cross military record from the National Archives. These records included several casualty reports on Col. Cross. He was wounded by a minie-ball shot through the left thigh at Fair Oaks, a wound to the skull by a spent minie-ball at Antietam, a severe wounding at Fredericksburg, where while leading his regiment against the stone wall at Maries Heights, a Confederate shell exploded just in front of him causing shrapnel wounds to his chest. His injuries were severe. A piece of shell struck him near the heart and rendered him insensible. He was brought to his senses by another fragment of a shell that struck him on the left leg, below the knee. He attempted to crawl along but a shell struck the steel scabbard of his saber, split it open and knocked him flat. Another piece of shell hit him in the mouth taking out some of his teeth. His men thought he had been killed. In his own words he wrote: "Dizzy and faint, I had sense enough to lay myself out decently, feet to the foe. Two lines passed over me, but soon they swayed backImagine the situation. Right between two fires of bullets and shells for our own artillery fire from over the river was mostly too short, and did great damage to our own troops I lay on the field four hours the most awful moments of my life. As the balls from our lines hissed over me within a foot from my head, I covered my face with both hands, and counted to one hundred, expecting every moment my brains would spatter the ground."
Further searches for evidence of Col. Cross netted an original letter written by Lieut. Augustes D. Sanborn, Co. B 5th. NH. Sanborn wrote the letter January 1st 1863 to his parents informing them that he has survived the battle of Fredericksburg. In his letter he wrote: "I hope that you will see Col. Cross while he is at home for I know you will be very glad to see him. I suppose that he will be back here before a great while, but if I was in his place and had been hit so many times as he has, I would never come back again unless they give me a nice place. The Col, for if there is a man in this army that wonting of it, it is Col. Cross but I don't know what we should do with out him for to look out for us."
More pieces came to light. I located and purchased copies of The Regimental History of the 5th. NH by Surgeon William Child. New Hampshire in the Great Rebellion by Major Otis F. R. Waite, a two volume set of the Report of the Adjutant General of the State of New-Hampshire for the year ending May 20, 1865, and a History of Lancaster, New Hampshire by Rev. A.N. Somers. These books really started to fill in the details of the military adventures of the 5th. NH and it's colonel. More importantly though I was starting to learn what I really wanted to know. Who was this man? How did he come to be in a position to command such a great regiment? The 5th. was a great regiment. It is recorded in Foxs Regimental Losses of the Civil War as being the Union regiment that suffered the greatest number of battle casualties of the war.
My next piece came as a result of a phone call to the University of New Hampshire. This was a shot in the dark, but as it turned out, well worth the effort. At the library, I spoke to a Ms. Nancy McCue. She informed me that the library held no primary source material, but she referred me to the Lancaster, NH Historical Society, and a volunteer there named Faith Kent. My call to Ms. Kent opened a window into the life of Col. Cross. This turned out to be the most important piece of all. Ms. Kent was a sweet old lady in her 80s who was the granddaughter of Col. Henry O. Kent. Col. Kent was the commander of the 17th. NH Infantry and had been Col. Cross best friend before and during the war. Ms. Kent told me of how as a young girl, she had sat on her grandfathers knee and listened to stories of the war and his old friend Cross. I listened spell bound. She recalled playing with a pocket watch that had belonged to Col. Cross. The men of the regiment had presented it to him and had a list of the regiments engagements engraved on it. Col. Cross gave it to Col. Kent moments before his death on the night of July2-3, 1863 at Gettysburg. Faith told me many stories of Col. Cross, but one was the most interesting.
Edward Ephram Cross was born April 22, 1832 in Lancaster, Coos County New Hampshire. He was educated in public schools and at an academy. At the age of 15, he entered the printing office of the Coos County Democrat. Two years later, he joined his father in Canada to assist him in steamboat building. At the age of 20, he moved to Cincinnati, Ohio where he was employed as a reporter for the Atlas. He covered two sessions of Congress while at the same time sending letters to the New York Herald.
History books I had read told a story of a conversation between Col. Cross and General Hancock on the afternoon of July 2nd, 1863. Cross, at that time, was commanding the 1st. Brigade, 1st. Division of the Second Army Corps under General Hancock. Cross had earned a promotion to Brigadier General, but the promotion did not come through as expected. General Hancock told Cross that "this day will bring you a star." Cross replied "No General this is my last battle." This encounter has resulted in the belief that Cross thought he would die in battle. According to Ms. Kent, as the story relayed to her

by Henry Kent, was that Cross intended to resign from the army. There were two reasons for him to do this. First, there was a resentment that he had not received a promotion, one that had been given to many junior officers. His connection with the Democratic Party, and his strong loyalty to General McClellan had soured officials in Washington. Second, during Cross's time in Mexico he had fallen in love with the daughter of a Mexican aristocrat, and was planning a return to Mexico. This was a secret kept from all but his closest friend, Col. Kent.
What followed my conversation with Faith Kent was a trip to Lancaster, NH, Cross birthplace. The historical Society was a treasure trove of Cross artifacts. In their possession was the Col's saddle that he brought from Mexico, His battle sword, a Model 1860 cavalry saber, his sword belt, his leather haversack, the 5th. NH emblems from his saddle blanket, a .44 caliber Remington cavalry revolver, his saddle holsters and his personal photo album. I was given the pleasure of placing his Colt revolver into it's holster. It had not been in that holster since Col. Cross removed it prior to entering the Wheatfield. While in town, I visited a monument to him on the site of his childhood home and his grave. Suddenly I was in possession of many new and exciting pieces of the puzzle. From papers at the Lancaster Historical Society I learned about Edward Cross, the young man, the explorer and the newspaperman.
In 1857 he traveled extensively in the United States and Canada, and contributed a series of interesting letters to the newspaper press. Next, he journeyed to the "Plains" of the far West, to the wild Indian region of northern Minnesota, and the country of the Yellow Medicine River and upper Missouri. This trip resulted in many encounters with the Sioux and Cheyenne Indians.
In 1858 he started for Arizona with a small party to establish a mining company in that territory. They took with them the first steam engine and printing press transported across the Rocky Mountains. His original printing press is on display in the Tubac Presidio State Historic Park. A great portion of their trip led through hostile Apache and Comanche Indians. At one time Cross and a band of 5 men followed a war party for 14 days. Two of the Indians were killed and several wounded.
In the town of Tubac, Arizona Cross established a newspaper, The Arizonian. A difference of opinion between Cross and an army Lieut. Mowry resulted in a challenge to duel. Cross did not feel he could decline and maintain the respect he had earned in the region. They fought with Burnside rifles at 30 paces. The first shot resulted in Mowry's bullet grazing Cross cheek, and Cross bullet passing through Mowrys coat. At the second round, Mowry's gun misfired and he demanded the privilege of firing at Cross unarmed. Cross threw down his weapon and coolly stood with crossed arms to receive the fire of his opponent. Mowry, astonished and impressed at the noble conduct of his adversary, dropped his rifle and exclaimed, "I can't fire at such a man as that." Cross being one of the few educated men in the territory was frequently called upon to act as a judge at lynch courts and to lead bands of men in search of hostile Indians. After most of the mining men were wiped out in an Indian attack, Cross left Arizona and crossed over the border into Mexico, where he was appointed by the military authorities of that country a "Chef de Battalion" in the ranks of the Liberal Party. Cross commanded a garrison at El Fuerte, Mexico in opposition to those nasty French invaders.
When Fort Sumter was fired upon Cross resigned his commission in Mexico and returned to his native state of New Hampshire. In Concord, he offered his services to Governor Berry and was commissioned Colonel of the Fifth Regiment of Volunteer Infantry. Supposition based on research and a likely time line has Cross traveling to New York where he would have visited the firm of Schuyler, Hartley & Graham to purchase his uniform and the equipment he needed to fulfill his duties. The photograph of Col. Cross in our collection shows him in a brand new uniform. The photographers mark on the back of the picture is from the studio of E. Anthony, New York.
Cross proved to be an excellent commander. His experience in the West and in Mexico provided him with an ability to get the most out of his men. They loved him too. In addition to the pocket watch, the men raised money through a subscription to purchase one of the most beautiful gilt presentation swords I have ever seen. It bears his battle cry "Steady Aim Low." He trained his men in the methods of Indian fighters, even to require them to smear their faces with black powder stripes Indian paint fashion. He would have his men whoop like Indians when they attacked. This must have caused some consternation among the Rebels. Following his recovery from his wounds at Fredericksburg, he did return to his beloved "Fighting 5th." in time for the Gettysburg campaign. History has documented the foolish move by General Sickles at Gettysburg that left a half mile wide hole in the Union Line. General Hancock was called on to plug this hole and he did so by sending most of his Corps forward into the Wheatfield. Col. Cross led his brigade forward on that day doing equally as much to save the Union army from disaster as other better known Colonels. He paid a fearful price. Moving around the end of his line for a better view of Confederate positions, he became exposed to fire from rebel sharpshooters in the Devils Den. One sharpshooter took aim at his belt buckle and put a bullet through his abdomen. The fatal shot came about 6:00 pm. He was removed to a rear area medical station. He was fully conscious but the wound was fatal. He expired about midnight. Many of his men and officers were with him when he died. His last words were, "I did hope I would live to see peace and our country restored. Thank Heavens, I have done my duty. I think the boys will miss me. Oh! Welcome death! Say farewell to all." His remains were transported to his Lancaster New Hampshire home and buried with much military fanfare. Col. Cross was 31 years old at the time of his death. He accomplished a lot in that short time.
While in New Hampshire I traveled to Concord to see more Cross relics. His portrait hangs in the state capitol where it looks down on the tattered flags of the 5th. NH. The state library was reported to be the repository of his presentation sword and pocket watch. When I inquired about the sword and pocket watch I was met with a frown but was told they would be retrieved from storage if I would just be patient. About 20 minutes later a library assistant came to my table with the mahogany wood case that contained Col. Cross sword. This was the original storage case that the sword was shipped from Tiffanies in 1863. There was a two-inch cigarette burn on the top where some careless library worker had set his or her cigarette some time in the past. This is a clear reflection on how many public institutions care for historic relics. Inside was the most magnificent sword I have ever seen. I cant describe it, but I do have some photos of it if any of you would like to see them. Also inside was a wonderful sword belt with a gold plated buckle, and a pair of sensational eagle head gold spurs. The sash that should have been in the case was missing. Where was Col. Cross watch? I asked again for the watch, but was told they couldnt find it. I was told that if I came back in a couple hours they might be able to locate it. I returned about 3 hours later, but no watch. It was missing I was told. As it turns out, it was stolen by a library worker who tried to sell it to a well-known Civil War artist. He, recognizing what he was being offered, tipped off the FBI and the watch was recovered. Another sad reflection on public institutions. I have yet to see the watch.
My Cross collection was nearly complete. The vast majority of his relics were in the hands of the Lancaster Historical Society or the State Library in Concord. None of them were available to me. But, as a collector I had to have more artifacts associated with Col. Cross to make an effective grouping for an eventual museum display. So where would I get more artifacts, and what could I collect? First I sought out a picture of Col. Kent, Cross best friend. While I was looking for that, I found a picture on ebay of an unidentified NH officer. I knew who it was; it was Thomas Livermore who was a Lieut. in Co. K of the 5th. NH and who later went on to become Col. of the 18th. NH. I had a pretty good working knowledge of the officers of the 5th. and instantly recognized Livermore, so I bought it. It was a bargain too.
Next I found a copy of Frank Leslies Illustrated Newspaper that had a picture of Col. Cross in it as part of its coverage of the battle of Gettysburg. Next, a copy of the New Hampshire Gazette from Saturday July 11, 1863 with an article about the death of Col. Cross, and finally a copy of the New York Tribune with Fredericksburg battle casualty lists including Col. Cross. What better items to collect. After all Col. Cross was a newspaperman.
Finally I wanted to find a document with his autograph. This was the most elusive item. I just couldn't seem to find anything with his signature. I learned that he rarely signed anything, leaving that task to his subordinates. One evening while I was cruising ebay on the internet I noticed a group of documents offered for sale from one of the 5th. New Hampshire officers. The papers were from Charles Long and consisted of receipts for various items such as personal uniforms. I wasnt too excited about them, but they were from the 5th. NH and so I bought them for a very modest price. When they arrived I looked them over and there it was, a receipt from a Concord, NH printer for 500 copies of regimental report forms, signed by Col. Cross himself. Sometimes it seems like artifacts just want to come together.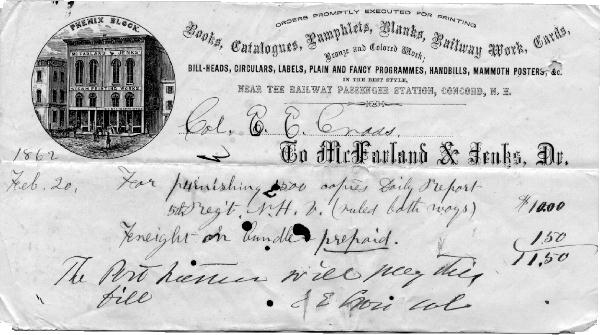 Col. Cross was not forgotten by his men during the post war veterans activities. They established a GAR post in his honor. When it came time to erect a monument to the regiment at Gettysburg they chose to honor their fallen commander by placing a native New Hampshire stone at the site of his wounding. The next time you are in Gettysburg, stop by and pay your respects to Col. Cross. I believe his spirit resides there still.
I have found many of the pieces of the Col. Cross puzzle. The picture of the man is clear. There will always be a few small pieces missing although one turns up from time to time. Col. Cross has become for me, an epitome story of the American fighting man. A true American hero, he remains in shadow.
So how did his revolver end up in a Chicago area gun show back in 1991? I again have to resort to speculation. On July 4th. and 5th. 1863 the Wheatfield area where Cross was wounded was occupied by elements of the 6th. Wisconsin Infantry. They had been too shot up to follow Lee's retreat and were left behind to help clean up the battlefield. I believe one of these Wisconsin soldiers found Col. Cross's prized engraved Colt revolver and kept it as a souvenir of the battle. It was probably handed down through generations until its significance was lost and one of the finder's decedents decided to cash in on it. It is a sad treatment for such an honored relic, but as we expand our museum, it will be placed in a display to honor the man, and the men he led.
Copyright 2003 Terry Thomann
__________________________________
Begin your Civil War adventure at The Civil War Life Museum. Located next to the Spotsylvania County Visitors Center in Massaponax Crossings, 4712 Southpoint Parkway, Fredericksburg, VA 22407